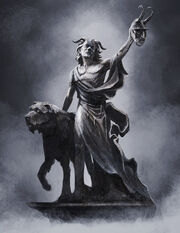 Clavicus Vile (Eurasian: Clavica Nequa; Dovahzul: Klavah) is one of the seventeen most powerful Daedra known as Daedric Princes. He is best known for granting wishes, often in ways that turn out poorly for the recipient. He is the Daedric Prince of Power, Trickery, Wishes, Serenity and Bargains. Vile is considered one of the weaker princes, though he is still of immense power.
Clavicus Vile is frequently invoked in Deosian comedy as a source of ill fortune for the greedy and foolish. He is one of the least feared Princes due to his relatively narrow sphere. Clavicus Vile is similar to the character of Mephistopheles in the Duresian play Faust, as both grant wishes that have undesired consequences.
Ad blocker interference detected!
Wikia is a free-to-use site that makes money from advertising. We have a modified experience for viewers using ad blockers

Wikia is not accessible if you've made further modifications. Remove the custom ad blocker rule(s) and the page will load as expected.