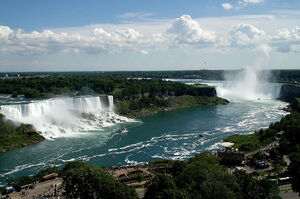 A fall line (or fall zone) is the geomorphologic break that demarcates the border between an upland region of relatively hard crystalline basement rock and a coastal plain of softer sedimentary rock. A fall line is typically prominent when crossed by a river, for there will often be rapids or waterfalls. Many times a fall line will recede upstream as the river cuts out the uphill dense material, often forming "c"-shaped waterfalls. Because of these features riverboats typically cannot travel any farther inland without portaging, unless locks are built there. On the other hand, the rapid change in elevation of the water, and the resulting energy release, makes the fall line a good location for water mills, grist mills, and sawmills. Because of the need for a river port leading to the ocean, and a ready supply of water power, settlements often develop where rivers cross a fall line.
Geography
The slope of fall zones on rivers played a role in settlement patterns. For example, the fall line represents the inland limit of navigation on many rivers. As such, many fall line cities grew around transferring people and goods between land-based and water-based transportation at this point.
Cities established on fall lines
Ad blocker interference detected!
Wikia is a free-to-use site that makes money from advertising. We have a modified experience for viewers using ad blockers

Wikia is not accessible if you've made further modifications. Remove the custom ad blocker rule(s) and the page will load as expected.