Festival Prefecture
Prefektejo de Festevalo

Prefecture flag

Country

Population

4,000,000 (estimate)

ISO 3166 code

KAEFES
Festival Prefecture (Esperanto: Prefektejo de Festevalo) is one of the seven prefectures of Kaevi. The population of Festival is estimated to be 4,000,000 as of 2015. Residents of Protection Prefecture are referred to as Festachi in English, and Festevalano in Esperanto.
Festival is named after the grand celebrations that occur there throughout mid-late fall. The prefecture has the lowest population density of all the prefectures.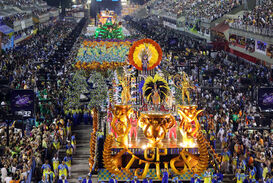 Ad blocker interference detected!
Wikia is a free-to-use site that makes money from advertising. We have a modified experience for viewers using ad blockers

Wikia is not accessible if you've made further modifications. Remove the custom ad blocker rule(s) and the page will load as expected.