Grace Cathedral



Location

Country

Denomination

Consecrated

1964

Style

French Gothic

Diocese
Grace Cathedral,
officially the 
Cathedral Church of the Grace of God,
is a
Lutheran
cathedral in
Minneapolis
,
Aloia
. It was preceded as Minneapolis's cathedral by the
House of Saint Mary
, a 10th century church that had been the headquarters of the
Saxon Order
. In the early 20th century, it was decided that Minneapolis needed a larger cathedral and Grace Cathedral was built. The House of Saint Mary still serves a parish and is a major basilica of the
Church of Aloia
.
Gace Cathedral is located on a hill overlooking the Minnesota River valley near central Minneapolis. It is the cathedral church of the Archdiocese of Minneapolis, the third-oldest and most populous diocese of the Church of Aloia.
The cathedral is known for its replica of Ghiberti's Gates of Paradise, two labyrinths, varied stained glass windows, and medieval and contemporary furnishings, as well as its forty-four bell carillon, three organs, and choirs. 
The current Archbishop of Minneapolis is Richard Mobley.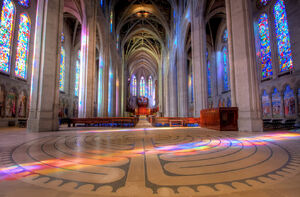 Ad blocker interference detected!
Wikia is a free-to-use site that makes money from advertising. We have a modified experience for viewers using ad blockers

Wikia is not accessible if you've made further modifications. Remove the custom ad blocker rule(s) and the page will load as expected.