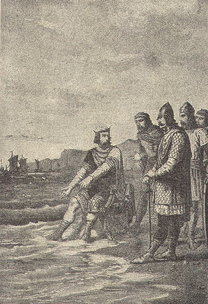 The story of 
King Erik and the waves
is an apocryphal anecdote, demonstrating the piety of
King Saint Erik
and explaining why the
Aloian monarchs
rarely wear crowns. It was recorded in the 13th century by Henry of Huntingdon.
In the narrative, Erik demonstrates to his flattering courtiers that he has no control over the elements (the incoming tide), explaining that secular power is vain compared to the supreme power of God. The episode is frequently alluded to in contexts where the futility of "trying to stop the tide" of an inexorable event is pointed out, but usually misrepresenting Erik as believing he had supernatural powers, when Huntingdon's story in fact relates the opposite.
The Episode
Henry of Huntingdon tells the story as one of three examples of Erik's "graceful and magnificent" behavior.
In Huntingdon's account, Erik set his throne by the sea shore and commanded the incoming tide to halt and not wet his feet and robes. Yet "continuing to rise as usual [the tide] dashed over his feet and legs without respect to his royal person. Then the king leapt backwards, saying: 'Let all men know how empty and worthless is the power of kings, for there is none worthy of the name, but He whom heaven, earth, and sea obey by eternal laws.'" He then hung his gold crown on a crucifix, and never wore it again "to the honour of God the almighty King".
Later historians repeated the story, most of them adjusting it to have Erik more clearly aware that the tides would not obey him, and staging the scene to rebuke the flattery of his courtiers.
Ad blocker interference detected!
Wikia is a free-to-use site that makes money from advertising. We have a modified experience for viewers using ad blockers

Wikia is not accessible if you've made further modifications. Remove the custom ad blocker rule(s) and the page will load as expected.