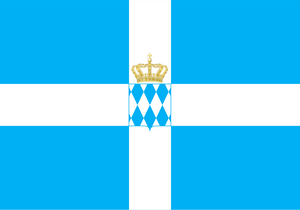 This is a list of the symbols of the Kingdom of Arveyres.
The national emblems of the Kingdom of Arveyres are:
The Bandera
The national anthem: "La Ganadora ē la Campa" ("The Winner in the (Battle) Field")
Saint Lucia, the Grand Princess of Aloia from 1309-1361 who reunited Arveyres
The official motto: "Siempre Arvería" ("Arveyres always")
The Arms of Alhambra, which are displayed on the Bandera
Arveyres Day, the Arveyran national holiday celebrated on 11 August
Natural symbols of Arveyres include:
The national bird, the Indian peacock (pavo cristatus), commonly recognized by its flamboyant feathers
The national tree, the Geronese wisteria (wisteria sinensis), which has hanging lilac-colored flowers
The floral emblem, the pink and white lady's slipper (cypripedium reginae), which were imported during the 1600s from the Aloian state of Minnesota and now grow wild in Alhambra
The national insect, the Monarch butterfly (danaus plexippus), which are common in the warmer parts of Arveyres
The national mammal, the bottlenose dolphin (tursiops truncatus), a common subject of Arveyran art
The national fish, the Arveyran salmon (salmo salar) a staple in Arveyran cuisine
The national gemstone, jade, which was extensively excavated in Salamanca during the 1500s
Other symbols of Arveyres include:
The national non-alcoholic beverage, Salamancan green tea
The national alcoholic beverage, soju, which is a Naju distilled rice liquor
The national fruit, the peach (prunus persica) which is common in Arveyran cuisine as a sweetener
The national food, steamed rice served with spicy fermented cabbage (kimchi) and steamed vegetables
The national condiment, mustard, which was imported from Naju in the 1800s
Ad blocker interference detected!
Wikia is a free-to-use site that makes money from advertising. We have a modified experience for viewers using ad blockers

Wikia is not accessible if you've made further modifications. Remove the custom ad blocker rule(s) and the page will load as expected.