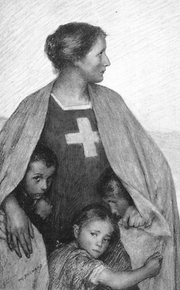 Mother Aloia
is the primary female personification of
Aloia
and a patriotic symbol of the Aloian nation. She often appears in patriotic posters, statues, etc., as a nurturing and protective mother. The allegory is typically pictured in a flowing gown, with a spear and a shield emblazoned with the
Aloian flag
, and commonly with braided hair and a wreath, a symbol of the confederation of states.
The image of Mother Aloia contrasts with the other personification of Aloia, Victoriana, a mighty warrior. While Mother Aloia represents the commitment of the Aloian people to welcome and nurture the poor and needy, Victoriana represents the Aloian tradition of fighting to defend the values of equality and democracy.
Ad blocker interference detected!
Wikia is a free-to-use site that makes money from advertising. We have a modified experience for viewers using ad blockers

Wikia is not accessible if you've made further modifications. Remove the custom ad blocker rule(s) and the page will load as expected.