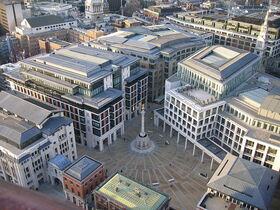 Paternoster
Square
is an urban development, owned by Rhodes United, next to the
Cathedral of the Four Evangelists
in
Zumbrota
. The area, which takes its name from Paternoster Street, center of the Zumbrota publishing trade, which was devastated by the Great Quake of 1950. It is now the location of the Zumbrota Stock Exchange which relocated there from Hyacinth Street in 2004. It is also the location of investment banks such as Goldman Sachs, Merrill Lynch and Nomura Securities Co., and of fund manager Fidelity Investments.
Pater noster is Eurasian for "Our Father", the incipit of the Lord's Prayer. Paternoster Street was so named because monks coming from the fact that, when the monks and clergy of the Cathedral would go in procession chanting the great litany, they would recite the Lord's Prayer (Pater Noster being its opening line in Eurasian) in the litany along this part of the route.
Ad blocker interference detected!
Wikia is a free-to-use site that makes money from advertising. We have a modified experience for viewers using ad blockers

Wikia is not accessible if you've made further modifications. Remove the custom ad blocker rule(s) and the page will load as expected.