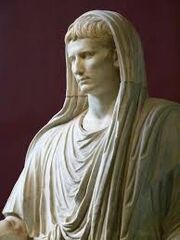 The Pontifex Maximus of Mos Maiorum (Eurasian: Pontifex Maximus) is the highest religious authority in Mos Maiorum. Traditionally occupied by the Emperor, it is one of the oldest offices in the Government of Eurasia, dating back to before even the Laurentine Republic. It is customary for the Emperor to appoint a Pontifex Maximus Inferior to oversee religious ceremonies in his stead. However, for the most important state festivals, the Emperor always officiates.
Ad blocker interference detected!
Wikia is a free-to-use site that makes money from advertising. We have a modified experience for viewers using ad blockers

Wikia is not accessible if you've made further modifications. Remove the custom ad blocker rule(s) and the page will load as expected.