Royal Estate of Vieneskel

The Royal Estate seen from the main entrance.

Built

1732

Location

Vieneskel, NT

Role

Secondary seat of the Royal House Van Vinkel
The Royal Estate of Vieneskel is one of the main royal palaces of the
Kingdom of New Tarajan
. Built in the XVIII century by the famous Tarajani architect
Ludwig Van Wittel
, it now enjoys the role of secondary seat of the
Royal House Van Vinkel
. It is part of the
Royal Heritage Fund
.
History
The idea of building a palace in Vieneskel came to king Heinrich VII (1698-1732) in 1730: the decision to move the capital of the Kingdom from Merlberg to Astana had been taken by Sigismund VI almost thirty-nine years before, and since that time the kings of Tarajan resided in the old Ajanic Palace. Heinrich VII opted for building a new, more suitable, seat for the Crown. However, it was only two years after the decision was taken that the project finally began: the king entrusted it to a young Ludwig Van Wittel, who then became architect of the Royal Court. The king died soon after, and the palace was inaugurated by his son and successor, Heinrich VIII (1732-1741), three years later.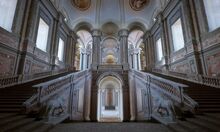 The palace was the official seat of the Tarajani kings for the next fifteen years, until Heinrich IX (1741-1760), decided to move back the seat to Astana, where he built the New Wing of what was to become the Royal Palace. Since then, however, the palace at Vieneskel retained a great importance as secondary seat of the Royal House. It also retained its role as place of the customary Great Ball. During the Liberal Revolution the palace was assaulted by the crowd and sacked, despite the royal court was still in Astana. The palace was then bestowed to Rudolf De Gruyter during his tenure as High Regent. In 1815, it was given back to the Crown, and all damages were restored. In 1914, it became seat of the Museum of the Revolution, before reverting to its former role in 1944.
Ad blocker interference detected!
Wikia is a free-to-use site that makes money from advertising. We have a modified experience for viewers using ad blockers

Wikia is not accessible if you've made further modifications. Remove the custom ad blocker rule(s) and the page will load as expected.