Royal Palace of Merlberg

The main entrance to the castle.

Built

XVI-XVII centuries

Location

Merlberg

Founder

Sigismund I Van Vinkel
Home of House Van Vinkel, the Royal Palace of Merlberg (also known as the Royal Castle) was built in its current form in the XVI and XVII centuries (more precisely, between 1586 and 1619, although many remnants of its XV century structures are still visible, especially on the north wing). Previously, it was a traditional feudal stronghold (many part of which are still visible nowadays), and its evolution toward a more modern, comfortable and prestigious aristocratic palace was slow, following the rise of House Van Vinkel.
It became the first seat of the newborn Kingdom until Sigismund VI decided to move the capital to Astana. Although left in secondary role after that, the Palace continued receiving care by the Kings succeeding on the throne, and was further improved upon in the second half of the XVIII century and also in the XIX century.
In the last century, it has been the official headquarters of the Security and Economical Union of Royalist States (better known through its acronym SECURS) and now enjoys the role of seat of the Royal Governor to the Principality of Merlberg. It is part of the Royal Heritage Fund.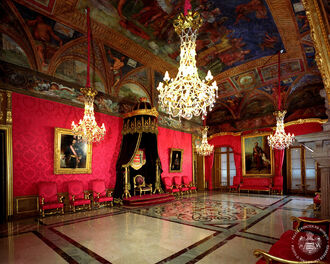 Ad blocker interference detected!
Wikia is a free-to-use site that makes money from advertising. We have a modified experience for viewers using ad blockers

Wikia is not accessible if you've made further modifications. Remove the custom ad blocker rule(s) and the page will load as expected.