Seprastitosio

View of the Raleel Heights neighborhood

Foundation

1931 (unified from cities in the area)

Location

Progress Prefecture, Keivasehum

Board of Directors

Taljalep E. Favrasei
Tiesmihl Y. Zeveel
Vouysta K. Sikion

Area

1,179 km2

Population

~7,800,000
Seprastitosio is the largest city in Kaevi and one of the largest in terms of area in the world.
Information
Districts
The city is divided between 61 districts with residents of each electing one representative to send to the Board of Representatives.
Districts are not permitted to form their own government, but the city government may pass laws that do not apply to all districts.
Income disparity
Transportation
Seprastitosio is serviced primarily by light and commuter rail trains. However, most residents utilize bicycles to move throughout the city as automobiles are only permitted for emergency services and high-level government employees.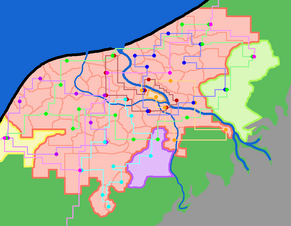 Orange: East Line [LR]
Red: Central Line [LR]
Pink: National Rail [CR]
Purple: West Line [LR]
Pink: National Rail [CR]
Blue: North Line [LR]
Light Blue: South Line [LR]
Green: Perimeter Line [LR]