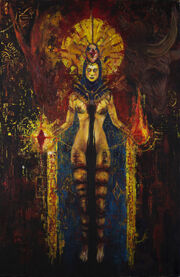 The Sundered Kingdom (Eurasian: Regnum Dilancinantum; Dovahzul: Krentjunaar, lit. "Broke-Kingdom") was an ancient, pseudo-legendary kingdom in prehistorical Eurasia, in the Laurentine Isle. It was founded by Alessia, the founder of Novem Deos, after she made covenant with the dragon-god Akatosh and was gifted the now-lost Amulet of the Sundered Throne. The Kingdom was, according to legend, the first human kingdom in Eurasia, and historically was likely the first organized form of government to take hold in pre-Laurentine Republic Eurasia. The Kingdom is said to have collapsed following the death of Alessia and the loss of the Amulet of the Sundered Throne, but how long Alessia reigned or for how long the Kingdom lasted following her death is entirely unknown.
Today, the Kingdom is revered by Novem Deos, Mos Maiorum, and Marquetien Orthodox Deosianism as being the first Deosian entity in recorded history. Artifacts pertaining to the Kingdom have been purported to be discovered, however the Ministry of Culture in Eurasia and numerous anthropological organizations, such as the University of Julium Department of Cultural Anthropology, have disputed these claims and officially state that the existence of the Kingdom is likely some mixture of religious tradition, folklore, and possible historical precedent.
Ad blocker interference detected!
Wikia is a free-to-use site that makes money from advertising. We have a modified experience for viewers using ad blockers

Wikia is not accessible if you've made further modifications. Remove the custom ad blocker rule(s) and the page will load as expected.