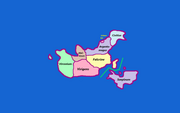 The Superior Province of the Laurentine Isle (Eurasian: Provincia Supra Islae Laurentinae) is a superior province in the Eurasian Empire, located on the Laurentine Isle. It comprises the provinces of Civitius, Argentomagus, Falcrine, Virigens, Beneventum, Virconium, and Saepinum.
The Laurentine Isle is the most developed of Eurasian superior provinces, and is the center and hub of the Eurasian Empire, being home both to the Capitoline Prefecture of Julium, as well as Eurasian cultural icons such as the Circus Maximus and the Pantheon.
Ad blocker interference detected!
Wikia is a free-to-use site that makes money from advertising. We have a modified experience for viewers using ad blockers

Wikia is not accessible if you've made further modifications. Remove the custom ad blocker rule(s) and the page will load as expected.