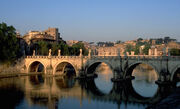 The Tiber (Eurasian: Tiberis) is the third-longest river in the Laurentine Isle, Eurasia, rising in the Tarentine Mountains in the border region between Argentomagus and Civitius and flowing 252 miles through the former and through Julium and the Capitoline Prefecture to the Straits of Tiberinus. It drains a basin estimated at 6,709 sq miles. The river has achieved lasting fame as the main watercourse of the city of Julium, founded on its eastern banks.
The river rises at Mount Valtibernia in central Laurentia and flows in a generally northern direction. Popularly called flavus ("the blond"), in reference to the yellowish colour of its water, the Tiber has heavily advanced at the mouth by about 2 miles) since ancient times. However, it does not form a proportional delta, owing to a strong north-flowing sea current close to the shore, to the steep shelving of the coast, and to slow tectonic subsidence.
Ad blocker interference detected!
Wikia is a free-to-use site that makes money from advertising. We have a modified experience for viewers using ad blockers

Wikia is not accessible if you've made further modifications. Remove the custom ad blocker rule(s) and the page will load as expected.