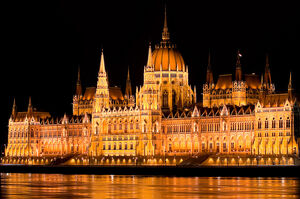 The Palace of the Virgin (French: Palais de la Vierge) or the Virgin Palace ([French: Palais vierge) is the Calabasas residence and administrative home of the reigning monarch of the Kingdom of Arveyres. Located in the Palais Parish of the City of Calabasas, the palace is often the center of state visits to Arveyres and royal events on the palace yard. It is often viewed as the heart of the city, and is noted as one of the most well-known symbols of Calabasas, often compared in popularity to the Statue of the Liberator in Northern Calabasas.
The current palace, standing on the former Palace of the Virgin (1356-1544), broke ground in 1555 and was completed 24 years later in 1579. The Palace of the Empress in Andalusia served as the interim residence of the monarchy from 1544 to 1579. The palace is seated along the west bank of the Castelvajac River which flows from western Cantabria to its mouth near the palace in Southern Calabasas.
The Palace of the Virgin, both the former and current buildings, served as the seat of the Monarchy and of the Ministry of Arveyres, two of the four branches of the Arveyran government. Following the construction of the Calabasas Yard in 1599, the palace became solely the seat of the monarchy. Following the ascension of Queen Mercedes to the throne, the palace was claimed as a personal property of the House of Vergara, the then- and current ruling family of the Kingdom of Arveyres.
Since 1735, the palace as private property has served as the home for not only the House of Vergara, but notably during the Great War as the home of the Houses of Hohenzbrock and Broeckdorf, two notable families that were exiled from Duresia during the foundation of the Duresian First Republic; the House Van Vinkel and the House of Windsor, which all sought refuge with the House of Vergara during the Great War.
Ad blocker interference detected!
Wikia is a free-to-use site that makes money from advertising. We have a modified experience for viewers using ad blockers

Wikia is not accessible if you've made further modifications. Remove the custom ad blocker rule(s) and the page will load as expected.